SAFE HANDLING & DISPOSAL OF NEEDLES AND SYRINGES
Phil & Jennie Gaglardi Academy
Issue
Considerable anxiety because of fear of contracting blood-borne diseases such as HIV, hepatitis B & C, and tetanus. Research shows that the risk of acquiring a disease from a needle-stick injury in a school setting is very low. However, if needles are found, it is important that we know what to do and how to dispose of the threat promptly.
Preventative
Regular inspection of grounds
Do not place hands into areas or objects where you cannot see
If students pick up rubbish, provide proper equipment (ie a grabber tool)
Students should never handle or pick-up needles of any kind only faculty
Do not dispose of needles in a garbage can, sink, or toilets
Provide a "sharps" container in the medical room.
Procedure
Tools: vinyl gloves, sharps container.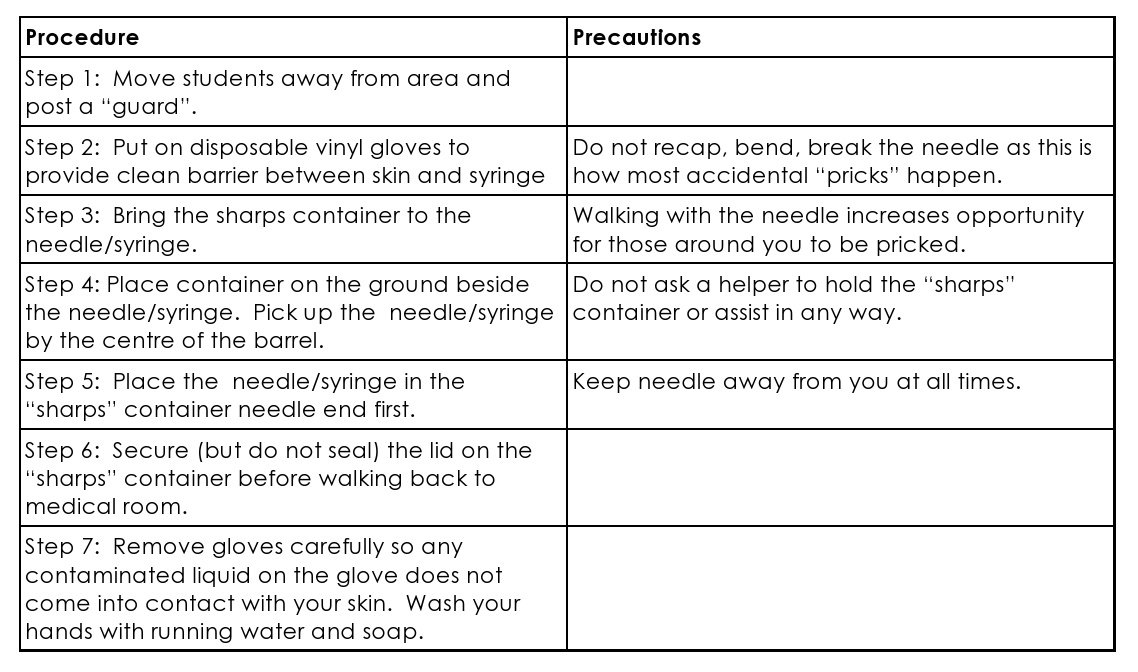 What to do if a needle prick occurs:
Stay calm and encourage the wound to bleed by squeezing gently.
Wash the area as soon a possible with running water and soap.
Apply antiseptic and band-aid.
Contact the School Director.
Visit the Emergency or walk-in clinic as soon as possible.
Emergency Procedures, March 4, 2016