Every school year we ask parents of Kindergarten to grade 3 children to provide a "comfort kit" for their child. Please read the items listed below and put all things in a large Ziplock freezer bag with your child's name clearly printed on the outside and hand it directly to their classroom teacher before the end of September. Because of the personal nature of all these items, the classroom teacher will return your Ziplock bag at the end of the school year.
Here are the suggested items:
A supportive and encouraging letter from parents along with a recent family photo
One or two small toys or stuffie
Extra medication if needed
A change of underwear
Any small comfort item that will bring solace to your child.

Please take time to review this emergency procedures page so that you will know what to do in case of an emergency, how to obtain critical and timely information, and how to be reunited with your child.
Do not phone the school

following an incident or during a disaster. We must keep our phone lines and cell service open for outgoing emergency calls.
Do not drive to the school

during an incident. Street access to the school must remain clear for emergency vehicles.
PLEASE

Do not call your child's cell phone,

especially during a

lockdown. Updates will confirm when cell service is available and you can begin calling your child.
Listen

and

watch

for updates – our school will use a variety of communication tools including phone trees, the school's website, text messaging, email, and social media to alert parents of the current situation and next steps.
As soon as

school officials indicate it is safe

to pick up your child, drive to the school and park only as close as you can safely walk to the reunification area (see map below). We are encouraging parents to park along Dogwood or Pritchard and approach the school from the West side of the property. This is the quickest and shortest route to the reunification area.
All parents or authorized alternates who come to pick up children MUST sign the children out

at the

designated student release

area (see map below). At Gaglardi Academy, this is at the bridge crossing Brooklyn Creek on the west side of our property. The quickest access is on Dogwood. Once parents sign out their children at the bridge, a faculty member will collect your child at the Student Holding Area (see below) and meet you at the student pick up area. Once parents sign for their child they should proceed immediately along the public path to the student pick-up area. Again, please refer to the map.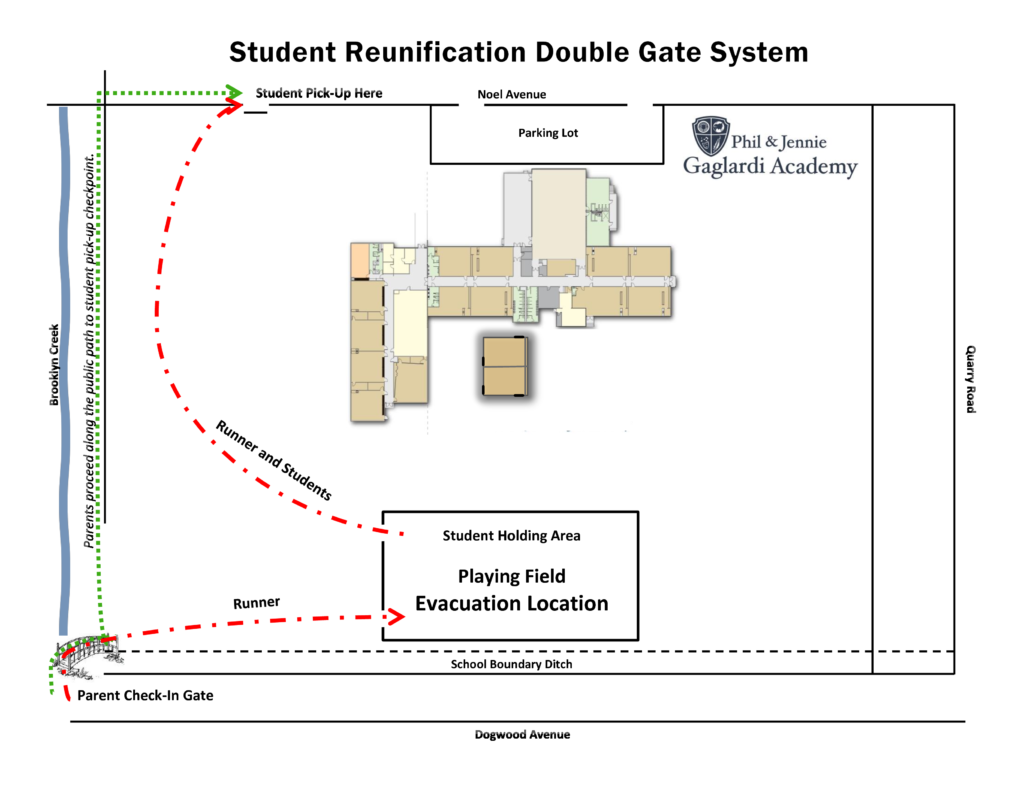 Trained Staff
See below for the command structure in the event of an emergency AND the structure to provide a safe learning environment for your child while at school. Gaglardi Academy has trained staff members in First Aid, SARS, Security, Hazardous Materials, and supporting psychological needs in the event of emergencies. Our school also has community contacts available to support our staff and students in the event of an emergency.